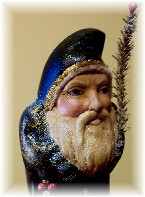 A bit about Belsnickle....
Belsnickle, Beslnickel, Pelznichol, Belsniggle...this German 'giver of gifts' was known by many different names. The word Belsnickle originated from a German term "Pelz Nichol" translated means "Nicholas dressed in fur". Belsnickle's clothing were many times rags of cloth and furs....he or she being someone who needed food and would be given money or food to perform this seasonal ritual.

These stoic figures have hunched backs, large faces with prominent long beards, their hands are often drawn into their sleeves and held closely to their bodies as if they are trying to stay warm. Belsnickle would show up at the home of children, unannounced and not saying a word, just looking stern. The children would practice all year to learn a piece to recite to Belsnickle. After the children were finished reciting Belsnickle would ask if they had all been good throughout the year.....of course they said "YES"....Belsnickle would then toss candy on the floor in front of the children and leave... Leaving behind the feel of the mystery of Belsnickle......where he comes from, where does he go, when would he return...and the ever present threat of having to be good until the next visit!

These wonderful figures reflected the 19th century version of Santa Claus. In the early 1930's, Thomas Nast's jolly, rotund man changed the image of Santa Claus forever....thus....the mysterious, old world Belsnickle has become the most popular Christmas collectible today.
The Belsnickle's offered here you are painted with historically correct color schemes, taken from antique Belsnickle figures passed down through history. Some I have added more detailing to make them even more special to your collection or to give as a gift.
Each Belsnickle is SIGNED, DATED & NUMBERED and arrives in his very own gift/storage bag, twine tied with a hand painted name tag.

click the Belsnickle picture to go to the Belsnickles page


| Belsnickle |

---
| Return Home | On-line Catalog | GERMAN BELSNICKLES | What's New | Favorite Places | Wholesale | Email the Stone House | SHOW SCHEDULE | One of a Kind |