This past year has been a very good year for collecting more of those wonderful old moulds. I hope you will enjoy seeing the latest collectible chalkware additions I've designed for The 1840 Stone House Collection.
Lots of new collectible Santas and Father Christmas figures to add to your collection!
Check out the three new styles of Father Christmas ornaments! These are made of chalkware and so special!
As always, each collectible is signed, dated and numbered. Very fine old mica is used to give your collectible a perfect wintry effect. Chalkware collectibles are given an aged look so they look antique from the beginning.
Questions and comments are always welcomed!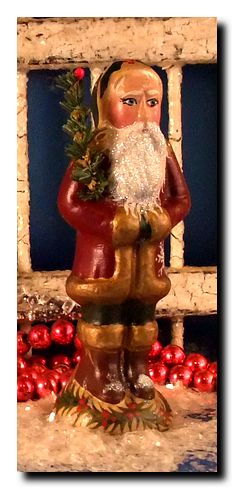 Limited Edition 2010
Father Christmas
Ltd-2010
4" tall
A late addition in 2010. 100 will be made in this edition.
This Father Christmas may be small in size, but big on looks and attitude! He is from a rare antique mould dating back to the 1800's.
His coat is burgundy, pants and hat are deep green. A holly leaf and berries sit atop the antique white band on his hat. He is resting, sitting on a pine tree stump. A pine garland encircles the base.
Signed, dated, and numbered. A wonderful addition to your collection or the perfect gift to that collector on your gift list....a gift to keep memories alive.
About the CHRISTMAS TREE... Father Christmas and the Christmas Tree are a make perfect partners!
Father Christmas only $65.00
As a set, special price $90.00
To purchase the tree seperately, just page down...

O' CHRISTMAS TREE
SHC-51
5" tall
This deep green pine tree is adorned with ball ornaments and little gold rings. Wonderful old fashioned gold candle holders are holding burning red candles. A little 'snow' has settled on the tips of a few boughs.
A perfect accent in your holiday decorating. Pair this great little tree up with any one of your favorites. The Stone House loves it with the 2010 Limited Edition....the perfect companions!
Signed, dated and numbered.
$40.00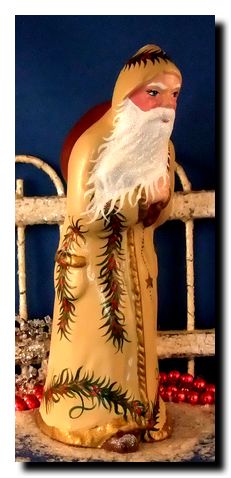 Limited Edition 2011
Father Christmas
Ltd-2011
100 will be made of this edition
7 1/4" tall
Simply the perfect Father Christmas to help make 2011 a memory! His body is bent forward as though he is trudging through the snow and the wind. His beard has blown to the side. He carries a heavy, giftbag slung over his shoulder.
The long, antique white robe is laden with a pine garland just full of berries. Gold stars hanging from a 'chain' runs across the burgundy giftbag and down the front of the robe.
What a memorable gift for that special person on your gift list...or...for yourself!
$75.00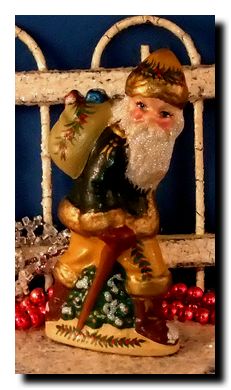 German Father Christmas
5" tall
SHC-50
This old Father Christmas is just full of personality. He's trudging along to deliver is gifts to one and all.
Painted in old colors of deep green and mustard, he looks antique from the beginning. Very fine old mica gives him a winter wonderland appearance.
Signed, dated and numbered.
$54.00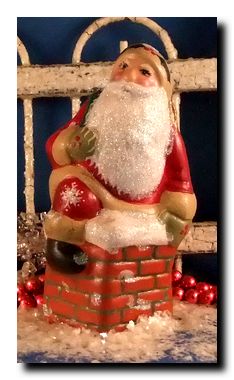 SANTA'S DELIVERY
SHC-52
4 3/4" tall
One of those rare moments we've caught Santa during his deliveries! He's sitting atop a brick chimney all laden with snow. He has snowflakes on his toy bag, one stuck on his knee. You can just tell he loves his job of gift giving!
This is made from a mould many of us baby boomers have received in chocolate when we were kids! Just a reminder of our days gone by!
Signed, dated and numbered.
$52.00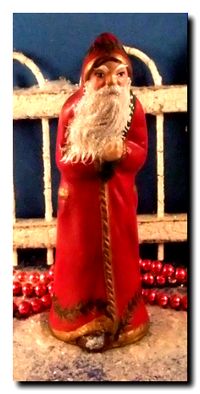 Father Christmas
SHC-53
6" tall

Father Christmas is bent forward, fighting the snow and wind to get to his destination. His beard is blown to the side.
He is dressed warmly in his long red robe. His robe is trimmed in old gold 'fur' and has an ornate trim of green/gold ivy leaves. His toy bag is green and white polka dots.
He is a smaller version of The Stone House's 2011 Limited Edition but this one, though wonderful, is not a Limited Edition.
Signed, dated and numbered.
$48.00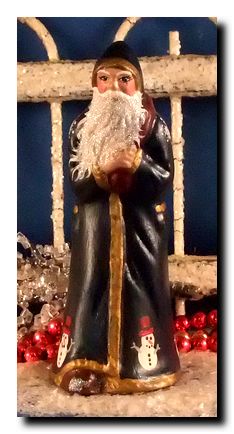 FATHER CHRISTMAS
and SNOWMEN
SHC-54
4 3/4" tall
This wonderful Father Christmas is Snowman friendly! He has decorated his navy robe with snowmen all around the bottom. Snowflakes adorn his robe and toy bag.
He is a small version of the 2011 limited edition, but he is not a limited edition.
Signed, dated and numbered.
$44.00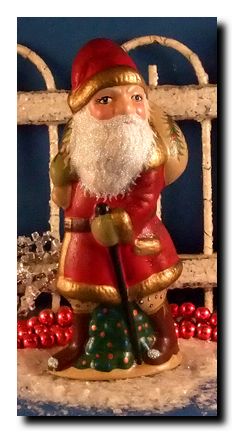 Traditional Santa
SHC-55
5 1/2" tall
Santa is on a delivery to some lucky boy or girl. Oh the magic! Another one of those Santas we baby boomers used to receive in chocolate when we were young! What precious memories!
What a wonderful face, almost child-like. He has a secret! Dressed in traditional red, he does have on his best boots! There is a special 'ermine' trim at top!
Signed, dated, and numbered.
$48.00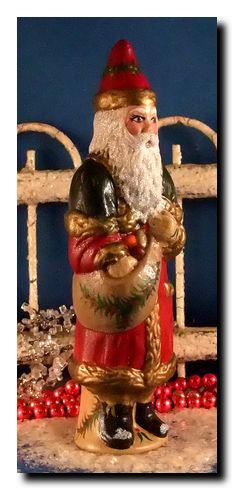 VICTORIAN
FATHER CHRISTMAS
SHC-56
6 1/2" tall
Elegant! A remembrance of a long ago time. His beard and hair are just perfect, long, deep and detailed.
Father Christmas is carrying an over-the-shoulder bag just brimming with apples and oranges. There is much detail to this guy, the more you look, the more you see!
Signed, dated and numbered.
$54.00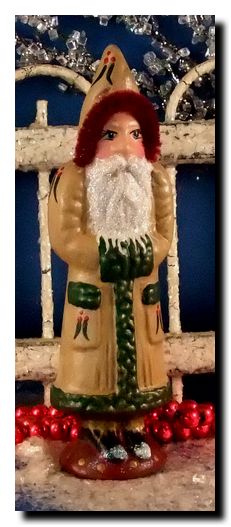 BELSNICKLE
SHC-57
6" tall
Those magnificent Belsnickles! Standing so stoic, a bit bent over with his hands tucked into his sleeves.
His trimmed hood frames a wonderful face. The 'fur' trimmed robe is belted in the back. He has on his best black boots trimmed in gold 'fur'.
Sure to be a hit for that Belsnickle lover on your list!
Signed, dated and numbered
$48.00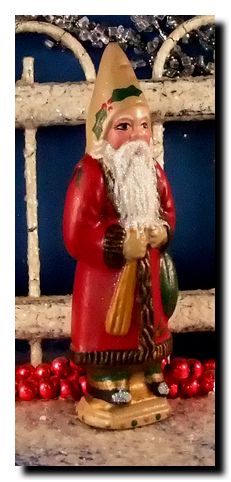 BELSNICKLE
SHC-58
5" tall

This Belsnickle has it all....a switch in one hand and toy bag under the other arm. So true to the history of Belsnickle, the switch to rake on the window of a home to scare the children, a bag carrying treats for the children of the house.
A wonderful collectible to give of add to your own collection.
Signed, dated, and numbered.
$48.00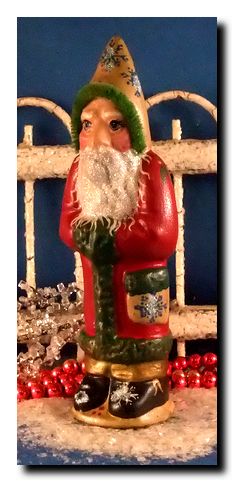 BELSNICKLE
SHC-59
6 1/4" tall
This Belsnickle looks tired! He's been busy checking on the boys and girls on his list. Looks like he's been sneaking around during a nice gentle snowfall and a few snowflakes have stuck here and there.
Just a perfect little guy to give as a gift or keep for yourself.
Signed, dated, and numbered.
$48.00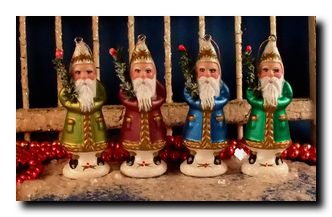 WEE BELSNICKLE
ORNAMENT
SHC-60
3 1/2" tall
Isn't this simply the sweetest little ornament? A perfect little tree trimmer.
Wee little chalkware Belsnickle is painted in metalic paint and decorated with pine garland with berries. Very, very fine mica gives this little guy lots of magic glow.
Give them as gifts to everyone on your list and don't forget yourself!
Signed, dated, and numbered.
$28.00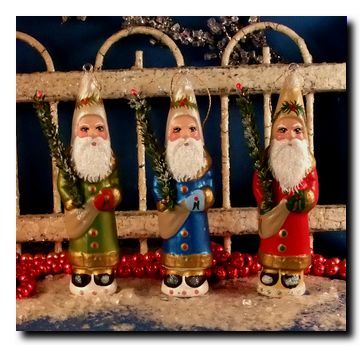 BELSNICKLE ORNAMENT
SHC-61
4 1/2
Now this darling little Belsnickle ornament will make the perfect accent on your little tree. He's just as sweet as can be! Handpainted in metallic colors or tradional colors. Finished off with a very fine mica that gives him the 'glow' he deserves.
Signed, dated and numbered.
$28.00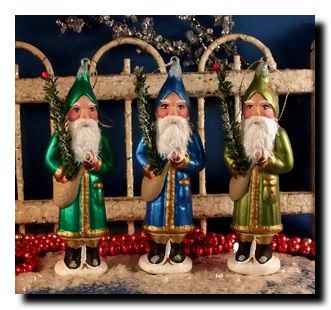 FATHER CHRISTMAS
ORNAMENT
SHC-62
An old favorite who became an ornament. Father Christmas is all done up either a metallic look or with a tradional flair.
Just perfect for your small tree or big enough for the big one! Finished off with very fine mica for a wonderful wintry appeal.
A great little guy to fill those little extra gifting plans. Don't forget to order one for yourself!
Signed, dated and numbered.
$28.00
View Cart / Check Out
---
| Return Home | On-line Catalog | What's New | Favorite Places | Wholesale | Email the Stone House | SHOW SCHEDULE | One of a Kind |