Welcome to the magical world of
THE 1840 STONE HOUSE COLLECTION
Purveyors of fine collectible chalkware, heirlooms of tomorrow!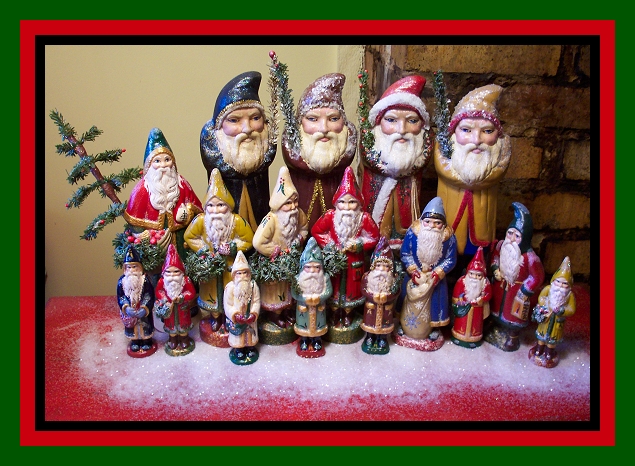 The 1840 Stone House offers a wide selection of finely hand painted CHALKWARE SANTA'S, BELSNICKLES, FATHER CHRISTMAS, PERE NOEL as well as beautiful EASTER & SPRINGTIME collectibles, individually hand cast in vintage chocolate molds from my personal collection. Each 3 dimensional piece of Folk Art is SIGNED, DATED, AND NUMBERED and arrive in their own gift/storage bag with an aged name tag.
Familiar with chalkware? This art has been around for over 200 years, originating in Europe and brought the the U.S. by talented emigrants. Today it's become a highly collectible form of 3-dimensional folk art. The Stone House chalkware is fashioned in vintage chocolate molds bringing out the wonderful detail those historical mold makers intended to be shown.
...OPEN ALL YEAR LONG...
Remember....Collectible chalkware is available ALL YEAR LONG! Just simply the perfect gift any time of the year.....making memories again and again!
Can't decide on that special gift? GIFT CERTIFICATES are available, ready to be sent to the lucky recipient. Gift certificates ship FREE!
Click on the 'ONLINE CATALOG' and 'WHAT'S NEW' to view individual pages. I hope you will enjoy your stay. If you have questions, please contact me. Contact info is at the bottom of this page. Thanks for your visit!
....Wholesale inquiries welcomed....
Please click 'WHOLESALE' at the top of this page to send your request.
The 1840 Stone House has an etsy store too!
Goood till Jan. 31st, 2016....Save 15% off you order. Offer good at the etsy store only.
All items listed on etsy are available for immediate shipping, no waiting on production.
Thanks for looking and have a wonderful New Year!

...ORDERING IS EASY!...
* Order online using the online shopping cart, accepting all major credit cards.
*Give The Stone House a call at 608-574-0086 and place your order to a live person (me/Deanie), accepting all major credit cards.
* Sending a Check or Money Order? Please include your name and address along with your email address if you have one. Your email address will only be used to let you know when your package is shipped.

THE STONE HOUSE GLADLY ACCEPTS:
VISA, MASTERCARD, DISCOVER, AMERICAN EXPRESS, MONEY ORDER, CHECKS
(checks held 10 days to clear)
Contact info:
The 1840 Stone House Collection
Deane Jaco-Green
427 Ferndale Rd.
Mineral Point, WI 53565
email: Deanie.Jaco@gmail.com
phone: 608-574-0086
---
| Return Home | On-line Catalog | What's New | Favorite Places | Wholesale | Email the Stone House | SHOW SCHEDULE | One of a Kind |